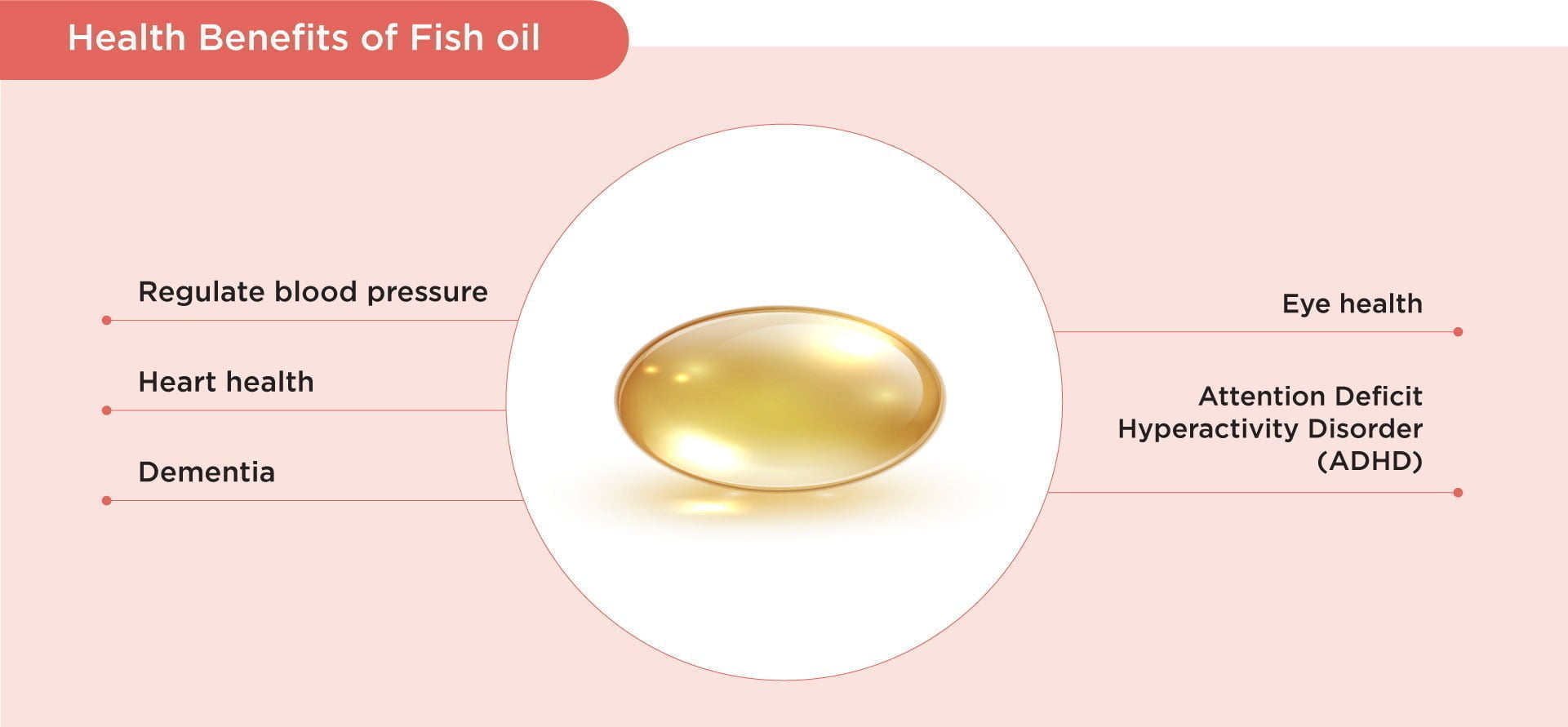 Fish Oil
Fish oil is a rich source of long chain omega-3 fatty acids (omega-3s), a group of polyunsaturated fatty acids (PUFAs) which primarily consist of eicosapentaenoic acid (EPA) and docosahexaenoic acid (DHA) 1. These omega-3s are converted into signaling molecules called eicosanoids, which have been shown to decrease inflammation within the body 2. The omega-3s content in common fish are very low, but high in fish from deep-sea and cold areas, such as anchovy, salmon and sardine. Therefore, most of the marketed fish oil products are using deep-sea fish to extract its omega-3s as supplements which have emerging clinical utility for the treatment of metabolic, cardiac, inflammatory and autoimmune diseases 3.
Nutritional Facts
Even though fish oil contains both EPA and DHA, fish do not actually synthesize these omega-3s themselves. Instead, they accumulate omega-3s in their tissue when they feed on phytoplankton and microalgae. Typical fish oil supplement contains up to 1000mg of fish oil which provides 300mg of omega-3s (about 180mg EPA and 120mg DHA), but the amount of omega-3s may vary widely according to the processing methods. Besides, omega-3s that come in several forms can affect the body's absorption. These forms include natural triglycerides (TG), free fatty acids (FFA), phospholipids (PL), ethyl esters (EE), and re-esterified triglycerides (rTG) 4. Research has found that the absorption of omega-3 in EE form is not as good as the other forms 11.

Published Health Benefits
1. Regulate blood pressure
Omega-3s may lower the blood pressure and heart rate by improving the blood vessel function through vasodilation or relaxation of smooth muscle in blood vessels 5,6.
2. Heart health
EPA and DHA supplementation are associated with lower risk of getting atherosclerotic plaque 7. Besides, taking omega-3s at the recommended dosage may also lower the triglyceride levels and ease inflammation 5.

3. Dementia
DHA has antioxidant, anti-inflammatory and anti-apoptotic effects, which may slow brain deterioration 8. Omega-3 fatty acids are especially concentrated in the synapses of the brain, consuming omega-3 supplements can help boost DHA level in the brain of dementia people 9.
4. Eye health
DHA is the major structural component of the retina. Taking omega-3s may help reduce the risk of getting macular degeneration which could lead to vision loss 10.
5. Attention Deficit Hyperactivity Disorder (ADHD)
Omega-3s helps in improving attention span and productivity. It also decreases hyperactivity, impulsiveness, restlessness and aggression among ADHD children 10.
References:
1. Młynarczyk, K., Walkowiak-Tomczak, D., & Łysiak, G. P. (2018). Bioactive properties of Sambucus nigra L. as a functional ingredient for food and pharmaceutical industry. Journal of functional foods, 40, 377–390. https://doi.org/10.1016/j.jff.2017.11.025
2. Tiralongo, E., Wee, S. S., & Lea, R. A. (2016). Elderberry Supplementation Reduces Cold Duration and Symptoms in Air-Travellers: A Randomized, Double-Blind Placebo-Controlled Clinical Trial. Nutrients, 8(4), 182. https://doi.org/10.3390/nu8040182
3. Mahboubi M. (2020). Sambucus nigra (black elder) as alternative treatment for cold and flu. Advances in Traditional Medicine, 1–10. Advance online publication. https://doi.org/10.1007/s13596-020-00469-z
4. Ulbricht, C., Basch, E., Cheung, L., Goldberg, H., Hammerness, P., Isaac, R., Khalsa, K. P., Romm, A., Rychlik, I., Varghese, M., Weissner, W., Windsor, R. C., & Wortley, J. (2014). An evidence-based systematic review of elderberry and elderflower (Sambucus nigra) by the Natural Standard Research Collaboration. Journal of dietary supplements, 11(1), 80–120. https://doi.org/10.3109/19390211.2013.859852
5. Miraj, S. (2016). Chemical composition and pharmacological effects of Sambucus nigra. Der Pharma Chemica, 8(13), 231-234. http://derpharmachemica.com/archive.html
6. Sidor, A., & Gramza-Michałowska, A. (2015). Advanced research on the antioxidant and health benefit of elderberry (Sambucus nigra) in food – a review. Journal Of Functional Foods, 18, 941-958. doi: 10.1016/j.jff.2014.07.012