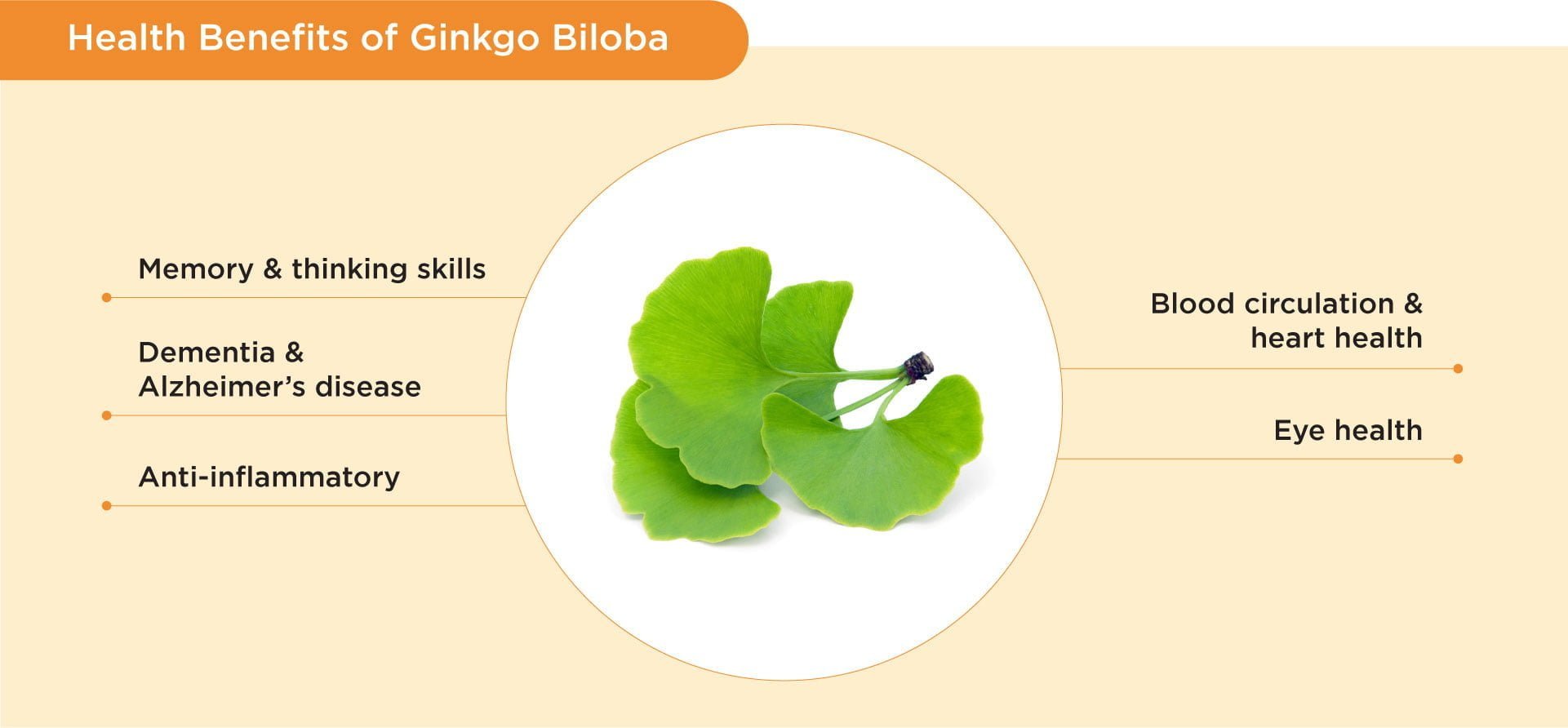 Ginkgo biloba
Ginkgo biloba belongs to the botanical family of Ginkgoceae. The common names are Ginkgo, Kew tree, Ginkyo, Yinhsing (Silver Apricot in Japanese), Maidenhair tree, fossil tree and Ginkgo Folium 1. Ginkgo (derived from the Chinese Yin-Kuo, meaning ''silver apricot'') biloba (referring to its two-lobed, fan-shaped leaves) is derived from the leaf of the Maidenhair tree, which is believed to live 2,000 to 4,000 years 2. Ginkgo biloba was originally a native of China, but now is cultivated all over the world. It is one of the most valued and ancient medicinal plants with its medicinal uses described in Shen Nong's Materia Medica over 5000 years ago 2. Ginkgo biloba supplements are associated with several health claims and uses, most of which focus on brain function and blood circulation.
Nutritional Facts
The major bioactive compounds present in Ginkgo biloba include flavonoids, bioflavonoids, proanthocyanidins, and trilactonic diterpenes. Flavonoids are present as glycosides such as Quercetin, Quercitrin, Kaempferol, and Isorhamnetin. Trilactonic diterpenes are Ginkgolide A, Ginkgolide B and Ginkgolide C.
Published Health Benefits
1. Memory and Thinking skills
There is some speculation that ginkgo may enhance brain function in healthy individuals. Taking Ginkgo biloba leaf extract may improve thinking skills in some elderly people with mild-to-moderate age-related memory loss or thinking problems. In healthy young to middle-age people, taking ginkgo may improve memory and increase mental performance 3.
2. Dementia and Alzheimer's Disease
Research suggests that Ginkgo may improve blood flow to the brain and protect nerve cells, thereby improving thinking, learning and memory skills in people with Alzheimer's disease or vascular or mixed dementia 1,3.
3. Blood Circulation and Heart Health
Ginkgo biloba extract was found to improve blood flow and prevent the clumping together of platelet 4. Clinical trials demonstrated ginkgo extract improved coronary blood flow in those with coronary artery disease 5. Ginkgo extract improved blood flow to the brain, thus reducing the risk of stroke in those with poor blood flow due to surgery 1,4.
4. Anti-inflammatory
Ginkgo biloba extract can reduce markers of inflammation in a variety of disease states such as atherosclerosis, bronchospasm, and hypersensitivity reaction 1,4.
5. Eye Health
Ginkgo biloba contains natural properties that act as antioxidants and improve blood flow. This effect has been shown to reduce retinal degeneration and improve colour vision in people with diabetes 3.
References:
1. Mullaicharam, A. (2014). A review on evidence based practice of Ginkgo biloba in brain health. International Journal of Chemical and Pharmaceutical Analysis, 1, 24–30. https://www.researchgate.net/publication/260640697_A_Review_on_Evidence_Based_Practice_of_Ginkgo_biloba_in_Brain_Health
2. Diamond, B. J., Shiflett, S. C., Feiwel, N., et al. (2000). Ginkgo biloba extract: mechanisms and clinical indications. Archives of Physical Medicine and Rehabilitation, 81(5), 668-678. doi: 10.1016/s0003-9993(00)90052-2
3. Giftson-Rajarajan, S. P. P., & Geetha, R. V. (2018). A review on the medicinal properties of Ginkgo biloba. Drug Invention Today, 10. https://jprsolutions.info/files/ms-file-5c04efc83592b4.33907495.pdf
4. Belwal, T., Giri, L., Bahukhandi, A., et al. (2018). Ginkgo biloba. Nonvitamin and Nonmineral Nutritional Supplements, 241-250. https://www.researchgate.net/publication/329235429_Ginkgo_biloba
5. Wu, Y., Li, S., Cui, W., Zu, X., Du, J., Wang, F. (2008). Ginkgo biloba extract improves coronary blood flow in healthy elderly adults: Role of endothelium-dependent vasodilation. Phytomedicine: International Journal of Phytotherapy and Phytopharmacology, 15(3), 164-169. doi: 10.1016/j.phymed.2007.12.002