Sambucus nigra (Elderberry)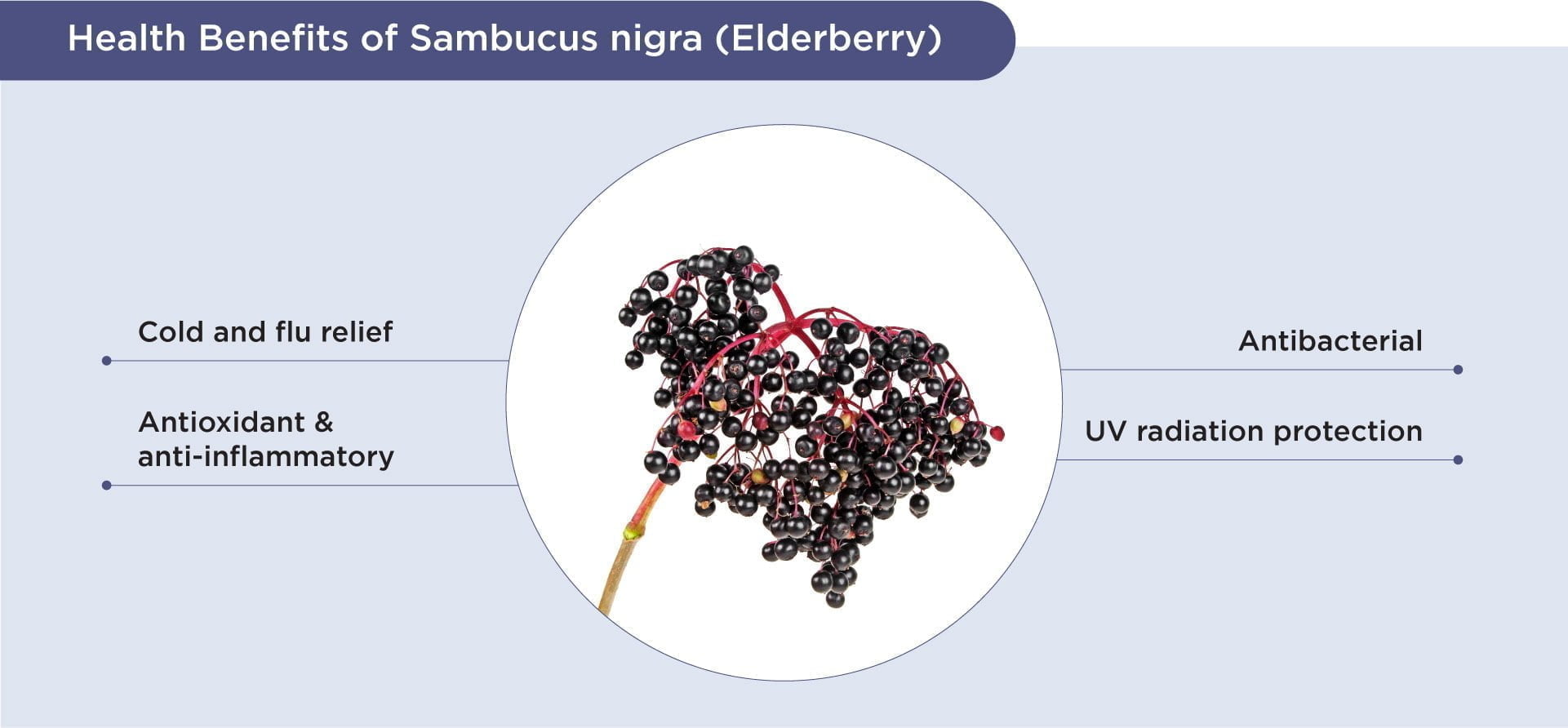 Sambucus nigra (Elderberry)
Sambucus nigra, also known as elder, black elder, or European elder. This is a small deciduous tree native to Europe and easily recognised in early summer by its white flower, which later develops into black berries. The flowers and berries have been used in European folk medicine for centuries for various ailments and diseases such as common cold, flu, nasal congestion, and fever 1.
Elderberry has gained popularity with modern clinical studies that support folk medicine uses with its antioxidant, antidiabetic, antidepressant, and immune-modulating properties.
Nutritional Facts
Elderberries are extremely nourishing as it contains a variety of nutrients such as vitamin A, vitamin B1, vitamin B2, vitamin B6, vitamin B9, vitamin C, vitamin E, zinc, calcium, magnesium, potassium, iron, flavonoids, phytosterols, and polyphenols 1,2.
Besides these nutrients, unripe elderberries also contain cyanogenic glycoside which is potentially toxic that can build up in the body as cyanide and cause illness. However, heat treatment can degrade the toxins and make them safe to consume 1.
Published Health Benefits
1. Cold and flu relief
Elderberry has been shown to boost the immune system and reduce symptoms of the cold and flu such as fever, cough, sore throat, and nasal congestion 2. Elderberry extract also possesses antivirals which have been shown to deactivate strains of influenza A and B. The anti-inflammatory properties of elderberries may reduce swelling of mucous membranes and nasal congestion, thus reducing the aches, pain, and fever during the outbreak of influenza 2,3.
2. Antioxidant and Anti-inflammatory
Elderberry contains antioxidants such as anthocyanins and flavonoids. These antioxidants not only help to fight damaging free radicals, but they are also important in managing the body's inflammatory response 1. High antioxidant levels of elderberry may help to reduce inflammation in the body, which is helpful in chronic inflammation such as heart disease and cancer 1.
3. Antibacterial
Elderberry possesses antibacterial properties against human pathogenic bacteria that cause infections of the upper respiratory tract. It is effective in reducing the growth of bacteria such as Streptococcus pyogenes, Streptococcus Group C and G, Branhamella catarrhalis 1.
4. UV radiation protection
Polyphenols extracted from elderberry can protect against UV radiations and it is valuable in sunscreen formulation. The protective effect is even better when combined with the extracts of Helichrysum arenarium and Crataegus monogyna 5,6.
References:
1. Młynarczyk, K., Walkowiak-Tomczak, D., & Łysiak, G. P. (2018). Bioactive properties of Sambucus nigra L. as a functional ingredient for food and pharmaceutical industry. Journal of functional foods, 40, 377–390. https://doi.org/10.1016/j.jff.2017.11.025
2. Tiralongo, E., Wee, S. S., & Lea, R. A. (2016). Elderberry Supplementation Reduces Cold Duration and Symptoms in Air-Travellers: A Randomized, Double-Blind Placebo-Controlled Clinical Trial. Nutrients, 8(4), 182. https://doi.org/10.3390/nu8040182
3. Mahboubi M. (2020). Sambucus nigra (black elder) as alternative treatment for cold and flu. Advances in Traditional Medicine, 1–10. Advance online publication. https://doi.org/10.1007/s13596-020-00469-z
4. Ulbricht, C., Basch, E., Cheung, L., Goldberg, H., Hammerness, P., Isaac, R., Khalsa, K. P., Romm, A., Rychlik, I., Varghese, M., Weissner, W., Windsor, R. C., & Wortley, J. (2014). An evidence-based systematic review of elderberry and elderflower (Sambucus nigra) by the Natural Standard Research Collaboration. Journal of dietary supplements, 11(1), 80–120. https://doi.org/10.3109/19390211.2013.859852
5. Miraj, S. (2016). Chemical composition and pharmacological effects of Sambucus nigra. Der Pharma Chemica, 8(13), 231-234. http://derpharmachemica.com/archive.html
6. Sidor, A., & Gramza-Michałowska, A. (2015). Advanced research on the antioxidant and health benefit of elderberry (Sambucus nigra) in food – a review. Journal Of Functional Foods, 18, 941-958. doi: 10.1016/j.jff.2014.07.012